LAS analyzers may be thought of as an atline "laboratory in a box" – complete with sampling, analysis, reporting/alarming, cleanup, and even auto-calibration for continuous, unattended operation. And the LAS design is accomplished with minimum maintenance in view: for example, no peristaltic pumps are used and no pump tubing replacement is required! In most cases, a quarterly PM is all that's needed.
Auto analysis
configured for your process
Auto sampling
draws and selects from single or multiple streams
Single or multi-parameter analysis
by titration, colorimetry, and spectroscopy
Titration methods
include pH, Redox, color, turbidity
Analysis scheduling
on interval, by event, or at times of day
Result validation
performed by replicate and range checks
Auto calibration
from grab samples or bottled standards
Grab sample port
for bottled samples or standards
Self-test
of all analytical sensors with automatic maintenance alerts
Reagent supply check
with operator alerts
Outputs
for alarming, replenishing, and data transfer
Inputs
for recording process data and synchronizing events
Keypad and PC
operator interfaces
Model L360
Our most compact unit for colorimetry
LCD touchscreen interface for stand-alone operation
Conserves reagent consumption with ul delivery
Samples one to four streams
Ideal for dedicated analyses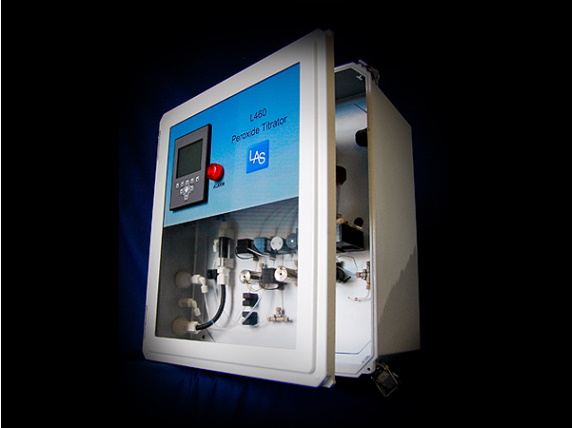 Models L450 & L460
Our mid-size unit for titration, pH, and colorimetry
Keypad interface for stand-alone operation
Analyzes up to four parameters
Samples up to four streams
Ideal for dedicated wastewater analysis
Multiprocess Models L510, L540, L550PC & L560odel L360
Perform titration, UV-Vis & Raman spectroscopy, and colorimetry
Precision, auto-calibrated pH
Spectroscopy methods include UV-Vis and Raman single and multi-component analysis
Optional PC interface for full-featured control
Analyzes up to eight parameters (limited by space and cycle time)
Samples up to 12 streams
Sampling methods include recirculating, draw-on-demand, grab sample, and sample filtration with auto backflush.
Liquid Analysis Systems, Inc. has over 30 years of experience in design, manufacture, and servicing of chemical process analysis and control equipment, software, and systems. Our products and services include both standard and custom solutions to chemical process control problems. For the solution to your chemical process control requirements…